Melissa Marie Salazar: Women sought as second suspect in Bryant slaying

By Peggy Kelly
Santa Paula Police Department
Published: July 26, 2013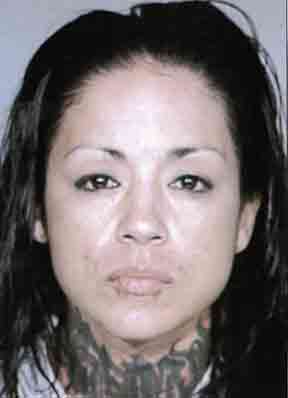 Santa Paula Police are seeking Melissa Marie Salazar for questioning in the murder of Angela Bryant. Salazar, who according to police moves back and forth between Santa Paula and Ventura, is Hispanic, 35 years old (as of Saturday), is 5'2" tall, 130 pounds, with black hair, brown eyes and is heavily tattooed on her neck and other areas.
Santa Paula Police have released the name of a second suspect now being sought in the murder of Angela Bryant, who was shot once in the head inside a residence in the 600 block of Ojai Street.
Police are already searching for Andres Rene Rodriguez, 28, of Oxnard, who is wanted as a suspect in the July 17 shooting of 33-year-old Bryant, a resident of Santa Paula. The woman was shot once in the head following what police believe was an altercation with Rodriguez inside a residence in the 600 block of Ojai Road. 
According to SPPD Lt. Ishmael Cordero, while interviewing witnesses and fielding tips investigators found "one particular girl's name keeps coming up... and we believe there more involvement than her just being with Rodriguez" at the time Bryant was murdered. Police are now seeking information on the whereabouts of Melissa Marie Salazar, whose 35th birthday is Saturday, on suspicion of kidnapping and conspiracy in the commission of other crimes as well as the murder of Bryant.
Salazar, described as Rodriguez's girlfriend, is from Santa Paula, but it is believed "she goes back and forth," living at times in Ventura. Cordero added the woman has had contact with police in the past, and "has some type of criminal record."
Rodriguez also is wanted in connection with a June shooting in Oxnard that the victim survived. The SPPD and Oxnard Police are sharing information as they both search for Rodriguez, a documented Oxnard street gang member who has an extensive criminal record.  
Cordero said investigators believe Salazar and Rodriguez are still in the area, although not particularly together. Said Cordero, "Anybody caught harboring this individual - we will arrest them... it is a felony to harbor a wanted person, and she's a suspect in a murder."
The SPPD has been the recipient of numerous tips regarding Bryant's slaying, as well as information regarding the June 28 murder of Joey Arellano, 24, outside a North 6th Street residence. Being sought as a suspect in the slaying of Arellano is Jessie Moten, 19, of Santa Paula, a documented gang member.
"Every tip we're getting," said Cordero, "we're following. And we think people are getting fed up with all these shootings," that include the May 27 murder of Ulises Virto, 21, gunned down on Dartmouth in what is believed to be a gang-related incident. 
Said Cordero, "People are willing to come forth and cooperate with us, and that's what it's going to take - a team effort. We really would like to thank the public for helping us out. Any tips can be called anonymously to our detectives or our hotline or to Crime Stoppers," said Cordero. "We know the community wants these people caught."
Anyone with information is asked to contact the Santa Paula Police Department, 525-4474. If the caller would prefer to remain anonymous, they can call the SPPD recorded Tip Hotline, 933-4253-1-#.
Those with information can also call Ventura County Crime Stoppers at (800) 222-TIPS (8477). The caller may remain anonymous and the call is not recorded. Ventura County Crime Stoppers can also be contacted by texting "Busted" plus your message to CRIMES (274637). Crime Stopper Tips can also be sent via the website, www.venturacountycrimestoppers.org.   
Crime Stoppers will pay up to a $1,000 reward for information that leads to an arrest and criminal complaint against those responsible for crime.