Community highlights
Latest News
April 21, 2014
Accidentally applying the accelerator and not the brakes led to an accident April 1 when a Santa Paula man trying to park at Blanchard Community Library instead wound up in the courtyard of Santa Paula Inn. SPPD Sgt. Jeremy Watson said Sergio Medina, 19, told police he was attempting to park at the library, located at 119 N. 8th St., at about 12:12 p.m. but "hit the accelerator instead of the brake." Medina's 1998 Ford Explorer went through the fence into the courtyard of Santa Paula Inn, hit a pillar and finally a wall of the boutique hotel before the vehicle stopped. There were no injuries and no estimate of damages.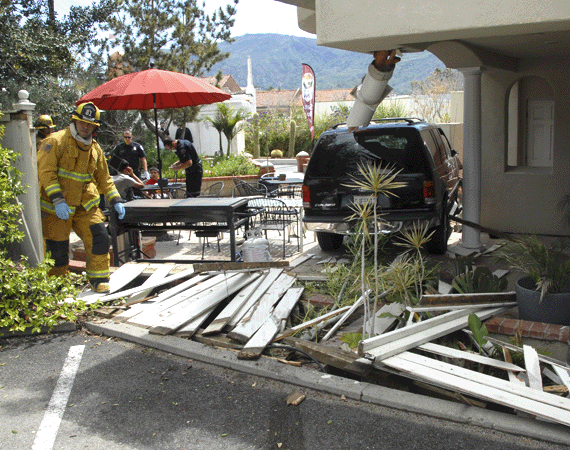 An acclaimed artist whose 58 portraits of residents are now in the permanent collection of the Museum of Ventura County will be showing her portrait techniques when the Santa Paula Society of the Arts meets April 13.
A 28-year-old Santa Paula man was arrested on suspicion of drunk driving Tuesday evening after slamming into a block wall. According to SPPD Sgt. Jeremy Watson, Tomas Rendon was driving westbound "at a high rate of speed," on West Santa Paula Street at about 9:07 p.m. April 8 when he attempted to make a left turn onto Steckel Drive. Rendon lost  control of his vehicle and collided with a brick wall located on  a residential property. Although he fled on foot Watson said Rendon was apprehended about a block from the collision scene and arrested without incident.
A Camarillo motorcyclist wound up with a broken leg Tuesday when he was struck in the intersection of Highway 126 and Hallock Drive by a van making a left turn in front of him.
More news