Community highlights
Latest News
May 29, 2015
"Presbyterians Recall Early Church Days in Santa Paula."  That was the headline in the Santa Paula Chronicle in May of 1923 when the church was celebrating its 40th anniversary.  Today, May 13, 2015 they celebrate 132 years of ministry.  From that 1923 article we share some snippets of interest.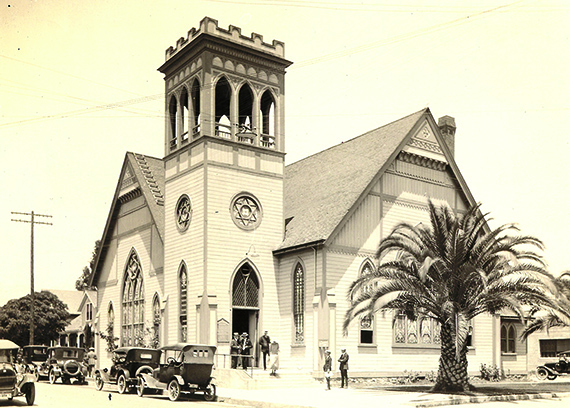 Local schools celebrated Cinco de Mayo last week. Celebrations were held both at Olivelands and Glen City Schools Cinco de Mayo (Spanish for "fifth of May") is a celebration held on May 5.  It is celebrated both in the U.S. and in Mexico, primarily in the state of Puebla, where the holiday is called El Día de la Batalla de Puebla (English: The Day of the Battle of Puebla). It seems to be more widely marked here than In Mexico, where it is not a national holiday. Here in the U.S. people bring out the tacos, burritos, guacamole and Margaritas and Corona to help celebrate the day, even if they're not entirely sure what the day is all about. The date is observed to commemorate the Mexican army's victory over French forces at the Battle of Puebla on May 5, 1862. That was the beginning of the end for France in Mexico. They finally pulled their forces out in 1866. Above, Glen City School students took their Cinco de Mayo show on the road Tuesday, May 5th. The Folkloric dancers, under the direction of teacher Teresa Trujillo performed Tuesday evening at Blanchard Library. A large group of family and friends gathered to enjoy the performance. The Santa Paula Optimist Club provided refreshments. 
The City Council heard from citizens that the top concern of the public is safety and funding for same should be a priority.
Students, under the direction of second grade teacher Teresa Trujillo at Glen City Elementary School performed traditional dances of Mexico, as classmates and parents looked on.
More news