Community highlights
Latest News
April 28, 2015
The Santa Paula Planning Commission will be considering a project on the western edge of the city that would place 79 single-family homes on a steep 35-acre parcel, a proposed development that at a February hearing brought out strong critics.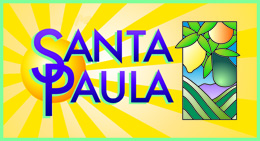 The whole community is invited to put on the dog — specifically Hozy, Zak and Ace — at the 6th Annual K9 Spaghetti Dinner!
Although always an aggravation, a sheared off fire hydrant can be a tragedy in a drought.
It's the final inspection for the city's newest fire engine, equipment that has been on order for a year but is especially needed since the November 2014 Santa Clara Waste Water explosion when Santa Paula Fire Department lost an engine.
More news