Community highlights
Latest News
July 24, 2014
The Citrus Classic Balloon Festival is known as such a great showcase for the area that the woman who created it was honored as Santa Paula's Citizen of the Year.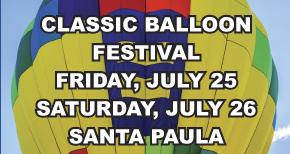 After two days of online outrage, the Santa Paula Police Reserve Officer behind a series of YouTube videos whose latest installment joked about running over bicyclists has resigned.
Sierra Bancorp (NASDAQ: BSRR), the holding company of Bank of the Sierra, announced the signing of a definitive agreement to acquire Santa Clara Valley Bank, N.A. (OTC: SCVE) of Santa Paula, California for aggregate cash consideration of $15.3 million.
 "A Country Fair with Ocean Air" theme is illustrated by county youth
More news