Community highlights
Latest News
May 30, 2015
The City Council will interview two candidates for the Planning Commission, consider placing property liens on owners who haven't paid their water bills and discuss budget goals at the June 1 meeting. Monday's meeting will begin at 5:30 p.m. closed session — public comment is allowed beforehand — in the City Hall Administration Conference Room to continue the evaluation of City Manager Jaime Fontes.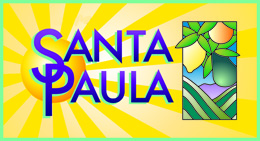 The city's newest fire engine arrived May 8 and was carefully backed into Station 1 on South 10th Street…it was a tight squeeze for a piece of equipment that arrived just in the nick of time.
Three Isbell Middle School students are going to the University of the Pacific in Stockton Saturday for the State Mathematics, Engineering, and Science Achievement (MESA) National Engineering Challenge competition.
The Santa Paula Unified School District board has tabled a request for a big car show at Isbell School.
More news