Santa Paula CVS Pharmacy robbed, suspect sought

By Peggy Kelly
Santa Paula Police Department
Published: July 26, 2013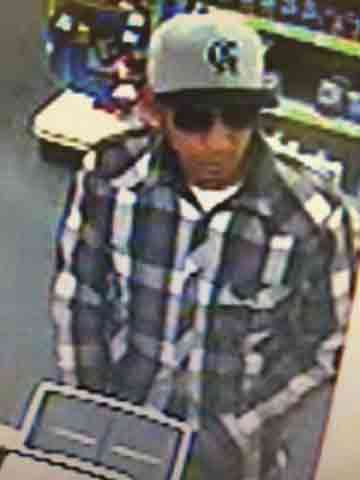 Santa Paula Police released a surveillance photograph of the suspect in Monday's armed robbery of the CVS Drug Store pharmacy and are asking for the public's help in identifying the subject.
Santa Paula Police are looking for an armed robber who held up an area pharmacy Monday afternoon, a lunch hour crime not observed by others inside the drug store.
The July 23 incident occurred at about 12:46 p.m. at the CVS drug store, located in the Vons Center in the 500 block of West Main Street. CVS is located on the south side of the center close to West Harvard Boulevard.
According to SPPD Detective Ken Clark, a male suspect waited until the customers had cleared the pharmacy area and then he walked up, "actually gave the clerk a list of what he wanted," and displayed a handgun. Reportedly during the incident the robber also tapped the gun on the glass of the pharmacy. 
Pharmacy personnel cooperated and gave the suspect merchandise before he fled the store. Clark said the suspect was last seen riding away from the scene on a bicycle headed north. 
The suspect was described as a Hispanic male, 5'7" or 5'8" tall, 135 to 140 pounds. He was wearing what Clark said "looks like a flannel plaid shirt," gray pants and large sunglasses. 
The suspect was also wearing a cap with the letters CA on it - "California Angels back in the day," before the team became the Anaheim Angels and changed its logo. Clark noted the cap is not necessarily old, as "retro" caps with the former logo are still being manufactured and sold.
Investigators are working with Oxnard Police to determine if the suspect is the same man who recently pulled off a similar robbery at a pharmacy in that city.
Anyone with information is asked to contact Clark at the Santa Paula Police Department, 525-4474 x277. If the caller would prefer to remain anonymous, they can call the SPPD recorded Tip Hotline, 933-4253-1-#.
Those with information can also call Ventura County Crime Stoppers at (800) 222-TIPS (8477). The caller may remain anonymous and the call is not recorded. Ventura County Crime Stoppers can also be contacted by texting "Busted" plus your message to CRIMES (274637). Crime Stopper Tips can also be sent via the website, www.venturacountycrimestoppers.org.   
Crime Stoppers will pay up to a $1,000 reward for information that leads to an arrest and criminal complaint against those responsible for crime.