Police seek gun in murder of Ashley Calanche
By
Peggy Kelly
Santa Paula News
Published:
October 02, 2013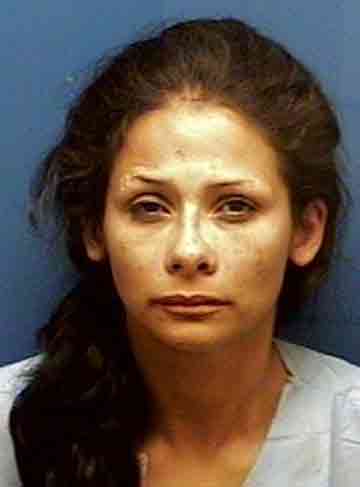 Suspect, Yajaira Dominguez
By Peggy Kelly 
Santa Paula Times 
Santa Paula Police are still searching for the weapon used Friday afternoon at Mill Park that left a 21-year-old area woman dead. 
The suspect, Yajaira Dominguez aka Yajaira Rosales, 31, of Santa Paula was taken into custody about seven hours after she allegedly shot and killed Ashley Calanche at Mill Park, about a block from where Ashley - an aspiring photographer who had missed her class that day. 
Dominguez was taken into custody at a home along the 500 block of Casabella Court about 8 p.m. after a long standoff and negotiation with police, who finally convinced her to give herself up.
According to Lt. Ishmael Cordero, police were called September 27 at about 1 p.m. and told a woman had been discovered dead at the park located on the 700 block of Santa Paula/Ojai Road (Hwy 150).
Responding officers found Calanche's body between an oak tree and a picnic table on the east side of the park near some basketball courts. 
She had been shot in the head.
Witnesses told officers two females were seen fleeing the park after Calanche was fatally shot and police a nearby apartment complex where one of the females - who turned out to be a witness to the shooting -was located.
The suspect Dominguez was later located at her friend's Casabella Court home. 
According to Police Chief Steve McLean, officers had already targeted the residence as a possible location of the suspect when they observed a woman leaving the residence and immediately detained her.
The woman said Dominguez had arrived at her residence "in tears, crying," as the woman was leaving on an errand, and the woman told Dominguez to wait for her.
McLean said the woman told police she was not aware that Dominguez had shot someone.
Officers used a loudspeaker to address Dominguez and ask that she come out but she refused.
"An officer called the house and she picked the phone right up," said McLean, "and the negotiation was on... "
Cordero said officers made a deal during negotiations with Dominguez that if she surrendered, she would be allowed to talk to her boyfriend - who had come to the residence and was waiting outside - before being booked into jail.
At about 7:15 p.m. an officer emerged from the home and handed Dominguez's boyfriend a purse believed to belong to the suspect.
Cordero said after Dominguez left the house with officers a second woman was found hiding in a closet by a K-9.
"She said she was hiding because she was scared and had warrants," for which the unidentified woman was arrested  after she was treated at Santa Paula Hospital for a dog bite.
"What was the motive for the shooting? As far as we can tell right now there was no motive.... the victim was at the park with a sister when the suspect walked up said 'what's up, what's up,' they started fighting and then the suspect shot her for no apparent reason."
McLean said Sunday that although both women were "gang associates" police do not believe the shooting was directly gang related. 
"We believe it's more towards the personal, for some reason something personal," that caused the deadly confrontation.
He credited "good police and witnesses" in the quick arrest of Dominguez, who was expected to appear in court Monday. 
"This suspect is in jail.... one by one, we're removing the bad people from the community."
He noted that in his many years in law enforcement, the case was one of the "rare, extremely rare," instances he's seen in which a homicide victim and suspect were both women.
"The odds," of such a murder he added, "have to be less than 1 percent."
Calanche, the mother of a young son, was a talented photographer who had recently started attending the Brooks Institute of Photography in Santa Barbara. 
In the days leading up to her death she had suffered from flu-like symptoms and on Friday reportedly had transportation problems and had to skip her class in Santa Barbara. 
After communicating with friends that she would email her instructor, several said they believed she was taking photographs at Mill Park at the time she had the confrontation with Dominguez.
The homicide was the fifth in Santa Paula in as many months; one other suspect in a separate murder was arrested in recent weeks, two suspects in separate homicides have been identified and are being sought by police and a third suspect in what was the city's fourth homicide has not yet been publicly identified.  
Mill Park has been the scene of violence before: in 1999 a man was bludgeoned to death on a steep hillside overlooking the park, an attack later ruled self-defense.