December 6, 2013
---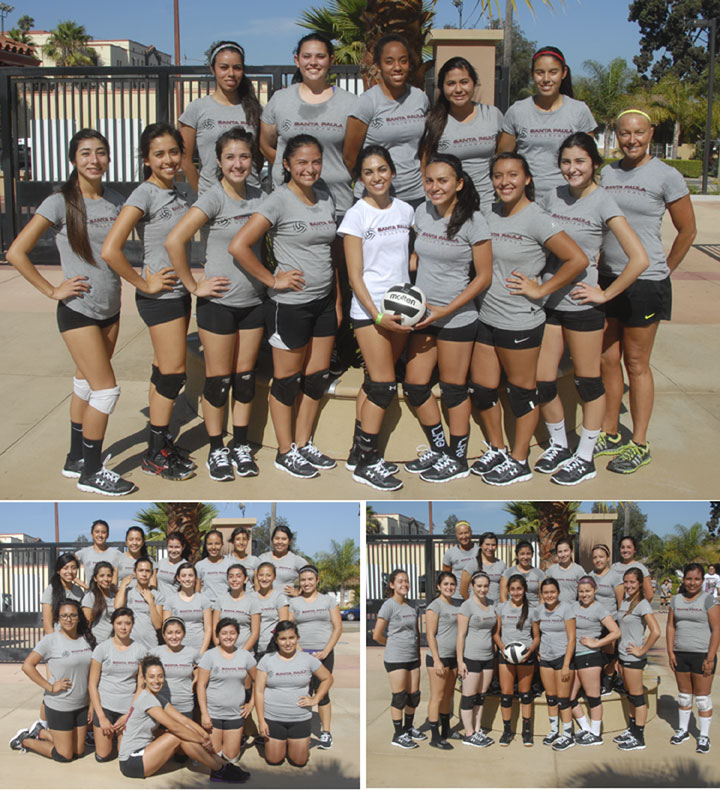 Top photo Varsity Volleyball 2013: Ellie Acevedo, Cindy Arana, Kiana Arellano, Vanessa Chavez, Vivian Hernandez, Felicia Magana, Selina Martinez, Marissa Ramos, Bianca Reyes, Sammy Rodriguez, Ruby Soriano, Kayla Stockton, Paola Torres, Bailey Van Buren and Sara Martinez. Bottom Left Frosh Volleyball 2013: Breana Aguilera, Evelyn Ambriz, Danielle Bravo, Renee Bravo, Rebecca Diaz, Kassidy Eagleston, Crisabel Lazaro, Elizabeth Magallanes, Mariela Martinez, Jessenia Montiel, Sofia Pacheco, Isabel Payne, Jazlyn Ramirez, Yajaira Rodriguez, Genesis Rosas, Alyssa Soto, Tamara Urbina, Mireille Vargas. Bottom Right Junior Varsity Volleyball 2013: Iliana de la Trinidad, Courtney Furr, Olivia Holmes, Selena Jimenez, Daisy Martinez, Siara Martinez. Natasha Martinez, Leandra Mijares, Alondra Navarro, Paulina Ortiz, Alejandra Pacheco, Jazmin Rostami, Reynalda Sanchez, Alexa Villa.
Lady Cardinal volleyball action starts September 5
By
Brian D. Wilson
Santa Paula News
Published:
August 21, 2013
Standout varsity players to watch this year include: Felicia Magana, Marissa Ramos, Sammy Rodriguez, Kayla Stockton, Vanessa Chavez and Selina Martinez. "What a natural athlete," said Coach Vanessa White of Ramos, "Cindy Arana and Kiana Arellano are the team Libero players. Liberos are defensive players who are responsible for receiving the attack or serve. 
White says those to watch on the JV side are Olivia Holmes and Iliana de la Trinidad, both outside hitters this year. JV setters are Paulina Ortiz and Siara Martinez. She said Leandra Mijares is playing in the middle. 
"We have very strong JV and varsity teams this year," white added. "I can't wait to see them play against teams of our caliber. White said the special weeklong summer camp was worth its weight in gold. She's now reinforcing the good habits they learned. She added that she's confident that the conditioning workouts they did on the track are why they played so well this summer. 
The girls start their regular season Thursday, September 5 at Channel Islands High School.
Calendar
December 07, 2013, 10:00
FRIENDS OF BLANCHARD LIBRARY BOOKSALE
December 08, 2013, 6:30
Christmas Concert Santa Paula
December 08, 2013, 7:00
A Christmas Carol - Special Event
December 13, 2013, 4:00
Thoughtful Santa Is Coming To Children's Therapy Network!
December 14, 2013, 9:00
Foster Parenting Information Meeting
January 30, 2014, 18:30
CASA of Ventura County Informational Presentation
February 27, 2014, 18:30
CASA of Ventura County Informational Presentation
Click here to submit an event