December 6, 2013
---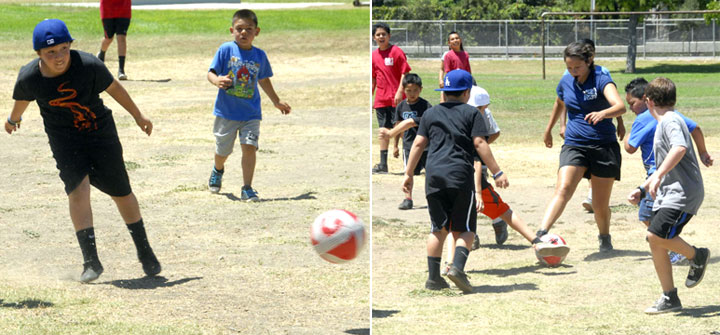 Photos by Brian D. Wilson
Community Services Summer Camp continues through August 8
Sports
Published:
August 02, 2013
The Santa Paula Community Services 40th Annual Summer Camp continues through August 8. (Above) The youngsters enjoy a game of soccer. The Summer Camp activities are held Monday through Thursday at Glen City School. Lunch is provided by the Santa Paula Unified School District. The Summer Camp will be followed by the annual Penny Carnival in the Community Center Parking lot on August 9.
Calendar
December 07, 2013, 10:00
FRIENDS OF BLANCHARD LIBRARY BOOKSALE
December 08, 2013, 6:30
Christmas Concert Santa Paula
December 08, 2013, 7:00
A Christmas Carol - Special Event
December 13, 2013, 4:00
Thoughtful Santa Is Coming To Children's Therapy Network!
December 14, 2013, 9:00
Foster Parenting Information Meeting
January 30, 2014, 18:30
CASA of Ventura County Informational Presentation
February 27, 2014, 18:30
CASA of Ventura County Informational Presentation
Click here to submit an event